Home>News and Resources
Get Involved and Help Our Watersheds!

Check out our events calendar to see what we are up to in the watershed or the Spotlight page to take a deeper dive into some active projects. Want to join us on a paddle trip or simply want to paddle the rivers and need some details, check out the Paddling the Watersheds page. Listed below are some other activities in the watersheds.
WHAT'S NEW AROUND THE WATERSHEDS
---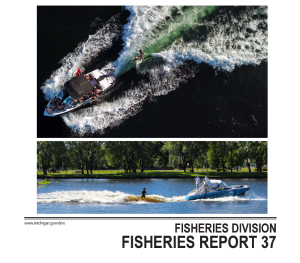 Check Out MLSA updated story on Wake Boats: MDNR Officially Releases Boat Wake Report: Fisheries Division, Report 37 is better than ever
The report concludes:
Wake boats provide a means of outdoor recreation, but the waves and propeller turbulence they generate can cause increased damage to aquatic environments through a number of mechanisms. The cumulative effects of these damages are expected to lead to loss of habitat and resulting declines in
aquatic ecosystems and angling opportunities. The recommendations below are intended to provide best operating practices under which the recreational opportunities that wake boats provide can be enjoyed in a manner that minimizes harm to the natural resources and property of Michigan citizens:
1. Boats operating in wake-surfing mode or wake-boarding mode, during which boat speed, wave shapers, and/or ballast are used to increase wave height, are recommended to operate at least 500 feet from docks or the shoreline, regardless of water depth.
2. Boats operating in wake-surfing or wake-boarding modes are recommended to operate in water at least 15 feet deep.
3. Ballast tanks should always be drained prior to transporting the watercraft over land.
It is recommended that awareness and voluntary adoption of these best operating practices be encouraged through outreach actions and materials to educate wake boat operators.
---

Check out the slides and materials from the 62nd Annual MLSA Conference -
Protecting and Restoring Michigan's Lakes and Streams
Annual Conference 2023 | Michigan Lakes & Streams Association, INC (mymlsa.org)
This includes TRC's Partnering with Prothonotary Warblers Presentation.
---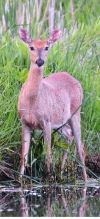 New state game area coming to Paw Paw River | News/Talk/Sports 94.9 WSJM
351 pristine acres in Waverly Township will be converted into a new state game area. The land is primarily forested wetland and provides habitat for deer, small game, and waterfowl. It has about 1.2 miles of frontage on the Paw Paw River, a fishery for smallmouth bass, walleye, northern pike, and seasonal runs of salmon and steelhead.
---

The Southwest Michigan Planning Commission, Two Rivers Coalition, and the Berrien County Drain Commissioner collaborate to create environmental and water education initiatives to engage the community. Learn more about the importance of sustainability and protecting the waters in southwest Michigan.
EducationCounts_Michiana - Southwest Michigan Planning Commission Water Partnership | PBS Michiana - WNIT
---
In Honor of Earth Day, Legislators to Introduce Bills to Establish Statewide Septic Code, Help Protect Michigan Water – housedems.com
Background: Michigan is the only state in the nation without uniform standards governing how onsite sewage treatment systems are designed, built, installed and maintained. Additionally, according to the Department of Environment, Great Lakes, and Energy (EGLE), Michigan has between 1.3 and 1.4 million onsite septic systems, and 35% of its residents rely on them; however, many of these systems are failing or inadequate due to the lack of a uniform statewide code. With no statutory way to define and alleviate failing septic systems in much of the state, these systems can lead to contaminated water seeping into nearby bodies of water, leading to increased levels of E. coli, other bacteria and algae blooms. This can cause illness if consumed or contacted, which can result in closures of lakes and beaches. The bills will establish state standards for septic systems, also known as "onsite wastewater treatment systems" and require regular inspections of those systems (with the inspection results maintained by EGLE) and establish a technical advisory commission within EGLE to advise the department, Legislature and local health departments on the most current scientific standards for septic tanks.
---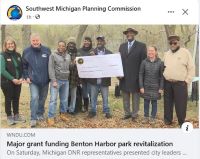 Part of Ox Creek Restoration:
Major grant funding Benton Harbor park revitalization (wndu.com)
Learn more at the Ox Creek and its restoration:
SWMPC | Ox Creek Watershed Project
Ox Creek Watershed (sustainoxcreek.org)
Ox Creek Sub Watershed (tworiverscoalition.org)
---
Concern about the impact of salting our roads has on environment:
Michigan brine brouhaha: Proposed limits for unpaved roads prompt dustup | Bridge Michigan
---
FLOW hosted a webinar on March 21, 2023, that offered legal, scientific, economic, and political perspectives on the urgent need and critical opportunity for Michigan to finally join the rest of the nation in adopting a state law to protect public health and fresh water from septic system pollution. Billions of gallons of poorly or untreated sewage flow each year into an estimated 330,000 failed septic systems. An unknown amount of that raw sewage ends up in lakes, streams, and groundwater, the source of drinking water for 45% of Michigan's population.
FLOW | Public Trust Solutions for the Great Lakes (forloveofwater.org)
FLOW Webinar - The Case for a Statewide Septic Code in Michigan - Live Recording March 21 2023 - YouTube
Septic Systems (tworiverscoalition.org)
E.coli Monitoring in the Black and Paw Paw River Watersheds (tworiverscoalition.org)
---

Check out the Presentations from the 2023 Shoreline and Shallows Conference:
Learn how to be a good steward of the riparian areas on your property.
Also find more details in our Waterfront Wisdom page.
---
Texas Township Riparian Ordinance: February 2023
Follow and support the development of a riparian ordinance in Texas Township and the Headwaters of the East Branch of the Paw Paw River.
East Branch Sub Watershed (tworiverscoalition.org)
Riparian Ordinance Update | Texas Charter Township, MI (texastownship.org)
---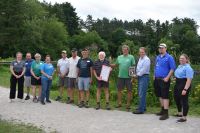 Two Rivers Coalition is Van Buren Conservation District's Conservationist of the Year 2022!!
Two Rivers Coalition is fortunate to have great partners to support us and that we can support to help make the Black River and Paw Paw River Watersheds great places to live and work. Thank You Van Buren County Conservation District!
---
Hayden Creek: November 2022
Work to remove dam.
Van Buren County Creek Among Waterways To Benefit From New Grant | News/Talk/Sports 94.9 WSJM
---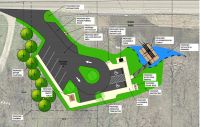 New Black River boat launch in the works at Pheonix Road: Jan 2022
Not a lot of details available but progress is being made. Word on the street is that it may be completed in late 2023!
South Haven authority on track to get DNR grant for kayak launch | Localnews | heraldpalladium.com
---