Two Rivers Coalition
---
Welcome! Explore and discover the Black and ..

Paw Paw River Watersheds with us!
Click Map for larger image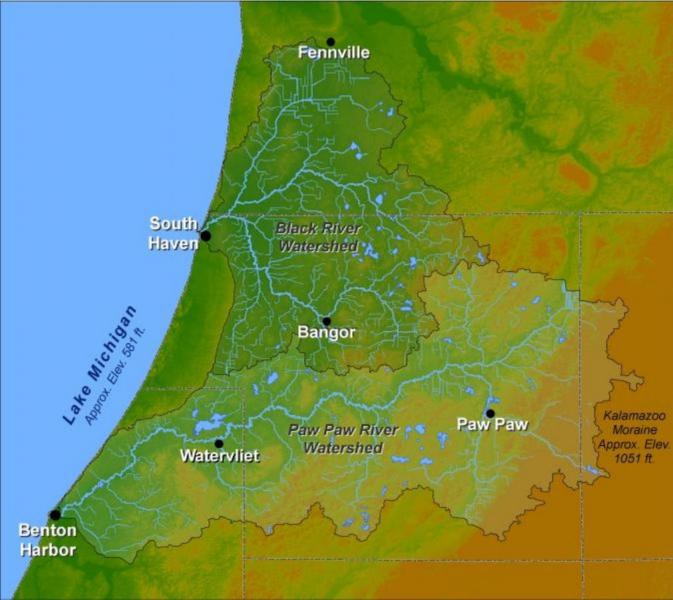 Learn what you can do to help protect and improve the wonderful resources in these watersheds. Learn about the Two Rivers Coalition, Inc., a citizen based group working to protect the health of the Black River and Paw Paw River Watersheds through conservation, education, and advocacy.
Our goal is to be your source of information about the Black and Paw Paw River Watersheds here in Southwest Michigan. We hope our web site will provide you with accurate and thought provoking information about these watersheds and the community we live in. We believe that an informed and engaged community is the key to making this one of the best places to live and play. Please look around and let us know if there is information that you would like for us to include on our web site. Looking for a specific topic? Try Search at the top of the page.
The Black and Paw Paw Rivers drain lands in Allegan, Berrien, Kalamazoo and Van Buren Counties. The Black River flows into Lake Michigan at South Haven. In Benton Harbor, the Paw Paw River flows into the St. Joseph River which then flows a short distance to Lake Michigan. Some say that the St. Joseph River is actually the Great South Branch of the Paw Paw River.
---
---
Upcoming Events:
Thursday May 18- Paddle and Pint Night! Join TRC as we kick off the paddling season with a paddle on the lower Paw Paw River. We will meet at the Graham Ave boat launch in Benton Harbor at 2:30 p.m. to unload boats and/or rent kayaks. We will begin paddling promptly at 3:00 p.m., paddle upstream for approximately one hour, then turn around and float (or paddle) back. Kayak rentals will be available from Third Coast at the Graham Ave location. Afterwards, we will head over to The Livery in Benton Harbor for Community Pint Night. The Livery will graciously donate $1.00 to TRC for every beer purchased between 5 and 8 p.m. As an added attraction, TRC will show its PowerPoint presentation about the Paw Paw River Water Trail (after a beer or two, you might even forget that you have seen it before).
______________________________________________________
Saturday May 20- Portman Nature Preserve Sneak Peak.
SWMLC is giving the public a preview of its newest nature preserve ahead of the official grand opening in the fall. Come walk the self-guided trails between 10:00 and 3:00 and see what all the buzz is about. BTW, it is in the Paw Paw River watershed near Mattawan.
_______________________________________________________
Protecting Your Shoreline: A Workshop for Inland Lakefront Property Owners
Choose from:
Porter Township Hall on Saturday May 20, 2017 10:30 a.m. to 2:30 p.m.(includes a short tour of Gravel Lake & light meal)
or
Kellogg Biological Station, Gull Lake on 6 – 9 p.m. Tuesday August 15 (Training); and Tuesday August 22 (Boat tour of lake)
Natural shorelines provide multiple benefits to our inland lakes. Natural shoreline landscaping and bioengineered erosion control techniques can restore those benefits by reducing runoff, deterring geese, stabilizing soils and improving fish and wildlife habitat while maintaining aesthetically pleasing access to your lake. Already have rock or sea wall? Learn how to enhance those structures for the benefit of your lake.
Cost: $50 per person, $25 for a second member of the household (who will share materials)
Registration deadline two days before event. No refunds will be issued after the registration deadline unless the workshop is cancelled due to low enrollment. Substitutions are welcome!
Workshop hosted by Michigan State University Extension in cooperation with the Michigan Natural Shoreline Partnership
**Natural Shoreline Workshop Flyer - MSUE**
__________________________________________________________________________
Saturday May 27- Volunteer work day on Black River with B/SHHWTA.
Our friends at B/SHHWTA keep a 20 mile water trail on the Black River open from Bangor to South Haven. But they need help from volunteers armed with loppers, trimmers, handsaws, etc. (but no chainsaws). Meet every Saturday thru the end of June at Basic Access site on CR 384 and normally work from 9:30 until 3:00. Contact Don Harrell for more info at 269-214-6376 or 269-214-7577.
__________________________________________________________________________
---
______________________________________________________________
Volunteer Stream Monitoring Program
Fall 2017 Macro Collection October 1st, I.D on Oct 2nd
Two Rivers Coalition and Van Buren Conservation District on being award the MiCorps Michigan Volunteer Stream Monitoring Grant for 2014. The start-up grant was for $2,923 to establish a macroinvertebrate monitoring program along the middle section of the Paw Paw River watershed, which is a tributary to the St. Joseph River. For more information go to Michigan Clean Water Corps (MiCorps) Program
2016 Fall Volunteer Stream Monitoring Program Macroinvertebrate Collection
Paw Paw River & Black River Watersheds
Volunteer Stream Monitoring Program Morning Training & Collection
Sunday, October 2, 2016, Lawrence River Park, Van Buren County
Volunteers gathered together at 9am to learn about the Volunteer Steam Monitoring Program and Insect Collections in the Paw Paw and Black River Watershed, Van Buren County. Two Rivers Coalition and Van Buren Conservation District introduced their board members and staff and gave a short update of their organization.
Individuals were divided into six teams, assigned a team leader and sent off to their designated locations with the proper equipment.
Volunteer Stream Monitoring Program Macroinvertebrate Identification
Monday, October 4th - Van Buren Conservation District
The following day, volunteers met at the Van Buren Conservation District office to sort and identify species from each collected site. Each Team had a table with tools and equipment to help sort, identify and assess the quantity of the species found at that specific site. Photos were taken of specimens and water quality was assessed by counting the sensitive, somewhat sensitive and toler-ant species found.
Read more...Volunteer Stream Monitoring Article PDF
Interview: Two Rivers Coalition Collecting Insects From Paw Paw River
Volunteer Stream Monitoring Program Page **updates
---
Are you into horror flicks? Here is on that will make your blood run cold: Oil and Water
---
Hydraulic Fracturing or "Fracking" - TRC"s Endorsement to Ban in Michigan

Motion - August 12, 2015 Board Meeting: TRC officially endorses petition to ban fracking in Michigan because of potential threat to ground water and surface water resources in Michigan.
The ballot summary on the circulating petition is:[8]
An initiation of legislation to prohibit the use of horizontal hydraulic fracturing or "fracking" and acid completion treatments of horizontal gas and oil wells; to prohibit emission, production, storage, disposal, and processing of frack and acidizing wastes created by gas and oil well operations; to eliminate the state's policy favoring ultimate recovery of maximum production of oil and gas; to protect water resources, land, air, climate, and public health; and to allow residents to enforce the provisions of this ballot language, by amending Public Act 451 of 1994 entitled "Natural Resources and Environmental Protection Act," by amending section 61528, 61529 and 61530.[9]

Anti-fracking ballot effort fails to collect enough signatures, seeks more volunteers (link to article)

Links/Information:

http://www.letsbanfracking.org/
---
This page last updated on 5/17/2017.