Two Rivers Coalition
---
Welcome! Explore and discover the Black and ..

Paw Paw River Watersheds with us!
Click Map for larger image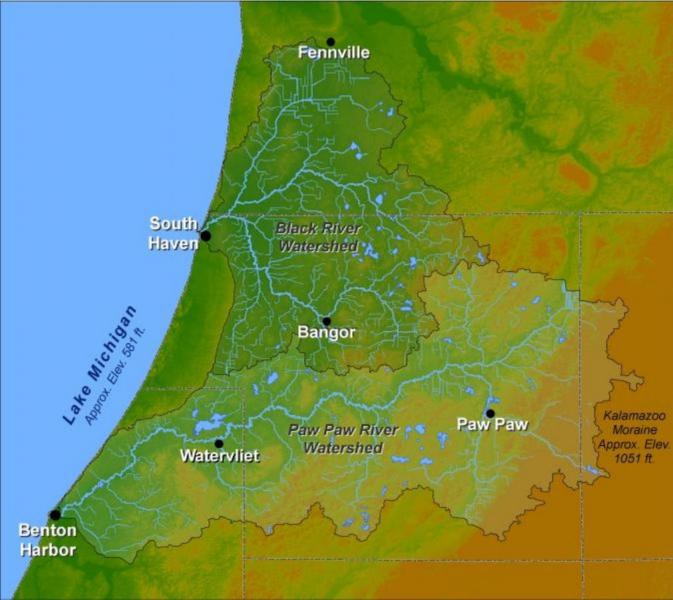 Learn what you can do to help protect and improve the wonderful resources in these watersheds. Learn about the Two Rivers Coalition, Inc., a citizen based group working to protect the health of the Black River and Paw Paw River Watersheds through conservation, education, and advocacy.
Our goal is to be your source of information about the Black and Paw Paw River Watersheds here in Southwest Michigan. We hope our web site will provide you with accurate and thought provoking information about these watersheds and the community we live in. We believe that an informed and engaged community is the key to making this one of the best places to live and play. Please look around and let us know if there is information that you would like for us to include on our web site. Looking for a specific topic? Try Search at the top of the page.
The Black and Paw Paw Rivers drain lands in Allegan, Berrien, Kalamazoo and Van Buren Counties. The Black River flows into Lake Michigan at South Haven. In Benton Harbor, the Paw Paw River flows into the St. Joseph River which then flows a short distance to Lake Michigan. Some say that the St. Joseph River is actually the Great South Branch of the Paw Paw River.
---
---
Upcoming Events:
Wednesday Mar 15- E. coli contamination has been a problem in our region and has caused beach closures in South Haven. TRC will host Molly Rippke of MDEQ who will speak about the proposed statewide TMDL standard for E. coli. This free event will be at 7:00 p.m. at the South Haven campus of Lake Michigan College.
Monday March 20- Volunteer recognition event with VBCD. We love our volunteers and want to say thanks. Come join us for food and beverage at 6:00 p.m. at the Old Town Hall in downtown Lawrence. We will summarize what volunteers helped us accomplish in 2016 and outline plans for 2017.
Tuesday March 21- St. Joseph Japanese Knotweed Symposium at Heritage Museum and Cultural Center, 9:00 a.m. to 3:00 p.m. Register with VBCD at 269-657-4030 for this follow-up to last year's hugely successful event introducing us to Public Enemy #1 in the invasive species world.
Tuesday Mar 21- The decision by Entergy to close the Palisades Nuclear plant in 2018 raises the question: "What happens to the radioactive waste next?" Michigan Safe Energy Future will host a showing of the documentary film "Containment" at the South Haven campus of Lake Michigan College at 6:30 p.m. This film will challenge us to think about nuclear waste and the future.
Saturday March 25- Workday at Black River Preserve. Come out and lend a hand at this lovely 120 acre SWMLC nature preserve on the Black River near South Haven as we get the trails ready for the 2017 season. We will meet at preserve entrance on 8th Ave and work from 9:00 a.m. until noon. For more info, call SWMLC at 269-324-1600.
Friday April 14- Deadline for ordering trees from VBCD for annual tree sale. Pick-up of trees on April 20, 21 and 22 at VBCD office.
Saturday April 22- Earth Day! There will be festivities and lots of information about environmentally friendly practices at Paw Paw District Library from 10:00 a.m. to 1:00 p.m.
Sunday May 7- VSMP macroinvertebrate collection event, 9:00 a.m. Lawrence River Park. You know the drill. We meet at Lawrence River Park and eat donuts and drink coffee until AJ Brucks turns us loose on the streams of SW Michigan. We will divide up into teams led by experienced people and collect macroinvertebrate samples from two different streams and be done by 1:00 p.m. Identification session will be on Monday May 8 at the VBCD offices in Paw Paw. For more info and/or to RSVP call VBCD at 269-657-4030.
Thursday May 18- Paddle and Pint Night! Join TRC as we kick off the paddling season with a paddle on the lower Paw Paw River. We will meet at the Graham Ave boat launch in Benton Harbor at 2:30 p.m. We will begin paddling promptly at 3:00 p.m., paddle upstream for approximately one hour, then turn around and float (or paddle) back. Kayak rentals will be available from Third Coast. Afterwards, we will head over to The Livery in Benton Harbor for Community Pint Night. The Livery will donate 50 cents to TRC for every beer purchased between 5 and 8 p.m.
__________________________________________________________________________
---
______________________________________________________________
Volunteer Stream Monitoring Program
Spring 2017 VSMP Macro Collection Event - May 7th
Two Rivers Coalition and Van Buren Conservation District on being award the MiCorps Michigan Volunteer Stream Monitoring Grant for 2014. The start-up grant was for $2,923 to establish a macroinvertebrate monitoring program along the middle section of the Paw Paw River watershed, which is a tributary to the St. Joseph River. For more information go to Michigan Clean Water Corps (MiCorps) Program
2016 Fall Volunteer Stream Monitoring Program Macroinvertebrate Collection
Paw Paw River & Black River Watersheds
Volunteer Stream Monitoring Program Morning Training & Collection
Sunday, October 2, 2016, Lawrence River Park, Van Buren County
Volunteers gathered together at 9am to learn about the Volunteer Steam Monitoring Program and Insect Collections in the Paw Paw and Black River Watershed, Van Buren County. Two Rivers Coalition and Van Buren Conservation District introduced their board members and staff and gave a short update of their organization.
Individuals were divided into six teams, assigned a team leader and sent off to their designated locations with the proper equipment.
Volunteer Stream Monitoring Program Macroinvertebrate Identification
Monday, October 4th - Van Buren Conservation District
The following day, volunteers met at the Van Buren Conservation District office to sort and identify species from each collected site. Each Team had a table with tools and equipment to help sort, identify and assess the quantity of the species found at that specific site. Photos were taken of specimens and water quality was assessed by counting the sensitive, somewhat sensitive and toler-ant species found.
Read more...Volunteer Stream Monitoring Article PDF
Interview: Two Rivers Coalition Collecting Insects From Paw Paw River
Volunteer Stream Monitoring Program Page **updates
---
Are you into horror flicks? Here is on that will make your blood run cold: Oil and Water
---
Hydraulic Fracturing or "Fracking" - TRC"s Endorsement to Ban in Michigan

Motion - August 12, 2015 Board Meeting: TRC officially endorses petition to ban fracking in Michigan because of potential threat to ground water and surface water resources in Michigan.
The ballot summary on the circulating petition is:[8]
An initiation of legislation to prohibit the use of horizontal hydraulic fracturing or "fracking" and acid completion treatments of horizontal gas and oil wells; to prohibit emission, production, storage, disposal, and processing of frack and acidizing wastes created by gas and oil well operations; to eliminate the state's policy favoring ultimate recovery of maximum production of oil and gas; to protect water resources, land, air, climate, and public health; and to allow residents to enforce the provisions of this ballot language, by amending Public Act 451 of 1994 entitled "Natural Resources and Environmental Protection Act," by amending section 61528, 61529 and 61530.[9]

Anti-fracking ballot effort fails to collect enough signatures, seeks more volunteers (link to article)

Links/Information:

http://www.letsbanfracking.org/
---
This page last updated on 3/13/2017.