Two Rivers Coalition
Congratulations! Two Rivers Coalition and Van Buren Conservation District on being award the MiCorps Michigan Volunteer Stream Monitoring Grant for 2014. The start-up grant was for $2,923 to establish a macroinvertebrate monitoring program along the middle section of the Paw Paw River watershed, which is a tributary to the St. Joseph River. For more information go to Michigan Clean Water Corps (MiCorps) Program
---
An important video for our times...
(Please share it with this link: www.TwoRiversCoalition.org)
---
Welcome! Explore and discover the Black and ..

Paw Paw River Watersheds with us.
Learn what you can do to help protect and improve the wonderful resources in these watersheds. Learn about the Two Rivers Coalition, Inc., a citizen based group working to protect the health of the Black River and Paw Paw River Watersheds through conservation, education, and advocacy.
Our goal is to be your source of information about the Black and Paw Paw River Watersheds here in Southwest Michigan. We hope our web site will provide you with accurate and thought provoking information about these watersheds and the community we live in. We believe that an informed and engaged community is the key to making this one of the best places to live and play. Please look around and let us know if there is information that you would like for us to include on our web site. Looking for a specific topic? Try Search at the top of the page.
The Black and Paw Paw Rivers drain lands in Allegan, Berrien, Kalamazoo and Van Buren Counties. The Black River flows into Lake Michigan at South Haven. In Benton Harbor, the Paw Paw River flows into the St. Joseph River which then flows a short distance to Lake Michigan. Some say that the St. Joseph River is actually the Great South Branch of the Paw Paw River.
Click Map for larger image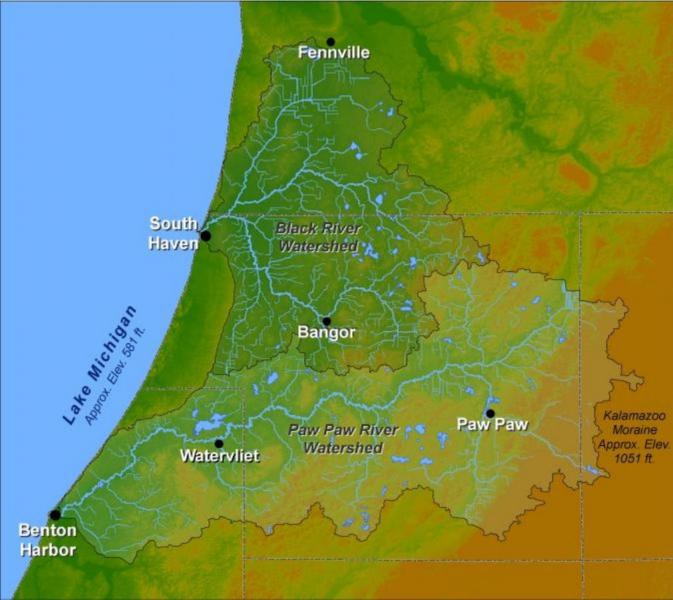 Where do you wash your car? It matters!
Check out our list of publications and reports regarding water quality issues here.
This page last updated on 10/5/2014.