Two Rivers Coalition
---
Welcome! Explore and discover the Black and ..

Paw Paw River Watersheds with us!
Click Map for larger image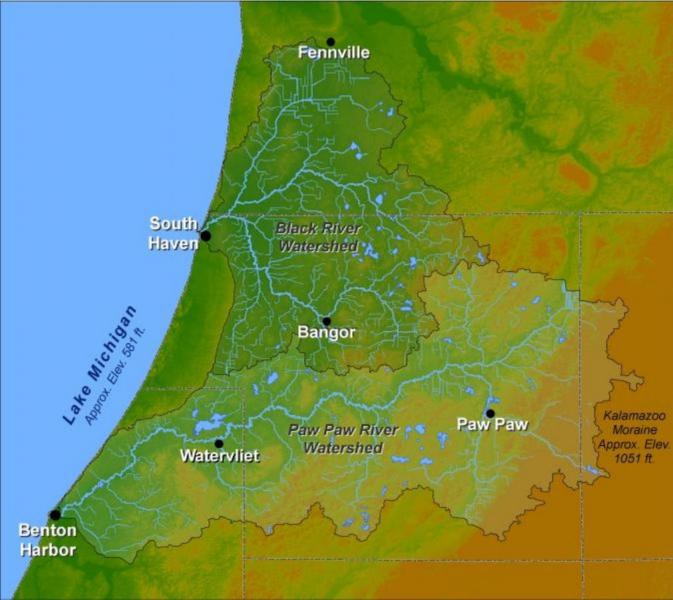 Learn what you can do to help protect and improve the wonderful resources in these watersheds. Learn about the Two Rivers Coalition, Inc., a citizen based group working to protect the health of the Black River and Paw Paw River Watersheds through conservation, education, and advocacy.
Our goal is to be your source of information about the Black and Paw Paw River Watersheds here in Southwest Michigan. We hope our web site will provide you with accurate and thought provoking information about these watersheds and the community we live in. We believe that an informed and engaged community is the key to making this one of the best places to live and play. Please look around and let us know if there is information that you would like for us to include on our web site. Looking for a specific topic? Try Search at the top of the page.
The Black and Paw Paw Rivers drain lands in Allegan, Berrien, Kalamazoo and Van Buren Counties. The Black River flows into Lake Michigan at South Haven. In Benton Harbor, the Paw Paw River flows into the St. Joseph River which then flows a short distance to Lake Michigan. Some say that the St. Joseph River is actually the Great South Branch of the Paw Paw River.
---
---
Upcoming Events:
_____________________________________________________
Saturdays in June- Volunteer work days on Black River with B/SHHWTA.
Our friends at B/SHHWTA keep a 20 mile water trail on the Black River open from Bangor to South Haven. But they need help from volunteers armed with loppers, trimmers, handsaws, etc. (but no chainsaws). Meet every Saturday thru the end of June at Basic Access site on CR 384 and normally work from 9:30 until 3:00. Contact Don Harrell for more info at 269-214-6376 or 269-214-7577.
___________________________________________________________
___________________________________________________________
TUESDAY JUNE 27
LAND PRESERVATION OPTIONS

On behalf of the Land Preservation Board, Farm Bureau, MSU Extension, Michigan Land Trust and the Conservation District in Van Buren County, we invite you to join us on Tuesday, June 27 from 6PM-8PM at the Van Buren Conference Center at 490 S. Paw Paw St. in Lawrence to learn about Agricultural Land Preservation Options for Landowners.
"Keeping it Rural" presenters include:
• Michigan Department of Agriculture Rural Development, Elizabeth Juras
• Michigan Department of Agriculture Rural Development, Jarrod Thelen;
• Natural Resource Conservation Services, Brian Thomas
• Southwest Michigan Land Conservancy, Peter Ter Louw
• Varnum Law, Matt Zimmerman
• Land Appraiser, George Bratcher
Landowners have options for preserving, conserving and investing in Van Buren County Agriculture. Is keeping county Ag Lands protected and Van Buren County rural important to you? Join and learn about Agricultural Land Preservation Options for Landowners. A panel of experts will tell us what programs are available, how they work and how you enroll.
Coffee and dessert is provided by Van Buren County Farm Bureau with the support of a Michigan Farm Bureau Grant.
Please RSVP by June 21st to the Van Buren Farm Bureau Office at 269-657-3293 or to the VBCD at 269-657-4030x5. Please feel free to invite landowners you know who may be interested.
____________________________________________________________
WEDNESDAY JUNE 28
THINK OUTSIDE THE (PLASTIC) BOTTLE!

SW Michigan Sierra Club is hosting "Tapped", a documentary movie that examines the role of the bottled water industry and its effects on our health, climate change, pollution, and our reliance on oil. This fascinating movie will be shown at the Portage Library, 300 Library Lane, Portage MI 49002 from 6:30 to 8:30 p.m. on Wednesday June 28. Free admission.
____________________________________________________________
THURSDAY JUNE 29

Invasive Species ID & Reporting AND Road Stream Crossing Monitoring/Culvert Inventory Training will be held on Thursday, June 29th at 6:00pm at the Paw Paw Township Hall (114 N Gremps St. Downtown Paw Paw).

Meet us at the Paw Paw Township Hall at 6pm. There will be an hour of classroom presentations and information and then we will head outside to identify, get our eyes on various real, living invasive species nearby and get hands on training for road stream crossing monitoring and inventories.

Volunteers will be able to download their own app. to help the SW x SW Corner CISMA detect, report and monitoring land in Van Buren County and across Michigan for invasive species and will be able to set up times that volunteer with the VBCD's summer interns to venture outdoors and help with Van Buren County Culvert Inventories.

Please RSVP to the VBCD by calling 269-657-4030x5. On our outdoor tour we will be swinging into the Sugar Bear for dessert (on us!) to get our energy up for identifying invasives and practice stream monitoring at a nearby road stream crossing culvert.

We hope to see you there!
___________________________________________________

THURSDAY JULY 13
SAVE THIS DATE!

The South Haven branch of Michigan Safe Energy Future will be hosting a speaker on the important topic of the decommissioning of the Palisades nuclear facility. Chris Williams is a veteran of the struggle to properly and safely decommission the Vermont Yankee nuclear facility and will help us understand the complex issues the SW Michigan community faces in the years ahead as decommissioning of Palisades proceeds.Check the TwoRiversCoalition.org website for more details in the coming weeks.
____________________________________________________________

FRIDAY JULY 21
CARDNO NATIVE PLANT NURSERY OPEN HOUSE

The TRC board and members will be carpooling down to Walkerton Indiana to visit one of the largest native plant nurseries in the Midwest. Check out the TRC website for more info about carpooling as the date approaches. Here is info from the Cardno brochure:
Friday, July 21, 2017
9:30am to 4:00pm EDT, Rain or Shine
Cardno Native Plant Nursery, Walkerton, IN
Please join us at our Nursery Open House celebrating ecological stewardship. Rain or shine, since 2001, we've hosted this special event every two years to highlight new trends and bring our friends together for an enjoyable, informative day on our 150 acre Native Plant Nursery and conference center grounds in Walkerton, IN.
Tour the Native Plant Nursery grounds and production facilities, take part in one of six engaging workshops or presentations led by industry leaders, enjoy lunch, buy native plants, take a botanical tour, network, and more. The details are below. Let us know if you have any questions. To allow for proper planning, we appreciate individual RSVPs using the form below. We hope to see you on the 21st!
A map and directions is at the bottom of the page. Upon your arrival on the 21st, please sign in at the registration tent located in front of the Nursery office to receive a map of the grounds including the location and schedule of events.
PLEASE NOTE: To RSVP for this Open House and/or to sign up for specific seminars, you must go to www.cardnonativeplantnursey.com

________________________________________

THURSDAY JULY 27
VBCD Farm Day and Picnic
You are cordially invited to the Van Buren Conservation District Annual Meeting/Director Elections summer Farm Day & Picnic
Thursday, July 27, 2017 at 6:00 pm at the The Beyer's Farm in Paw Paw. Join us to celebrate this year's accomplishments, mingle with friends, and enjoy local food. You will be able to check out Van Buren County's largest chestnut farm, meet the owner, hear from the farm operator, learn about VBCD programs and more. The address is 37360 52nd Ave, Paw Paw MI, 49079.
Please RSVP to 269-657-4030x5 by July 21st.
____________________________________________________________

SATURDAY AUGUST 5
RIVER RESCUE!

Join TRC and VBCD for this annual river clean-up event. Typically, volunteers meet in a central location and then crews head out to different bridge crossings and/or stream bank locations in both the Black River and Paw Paw River watersheds.Check the TRC website in July for more detailed info.
___________________________________________________________________
---
______________________________________________________________
Volunteer Stream Monitoring Program
Fall 2017 Macro Collection October 1st, I.D on Oct 2nd
Two Rivers Coalition and Van Buren Conservation District on being award the MiCorps Michigan Volunteer Stream Monitoring Grant for 2014. The start-up grant was for $2,923 to establish a macroinvertebrate monitoring program along the middle section of the Paw Paw River watershed, which is a tributary to the St. Joseph River. For more information go to Michigan Clean Water Corps (MiCorps) Program
2016 Fall Volunteer Stream Monitoring Program Macroinvertebrate Collection
Paw Paw River & Black River Watersheds
Volunteer Stream Monitoring Program Morning Training & Collection
Sunday, October 2, 2016, Lawrence River Park, Van Buren County
Volunteers gathered together at 9am to learn about the Volunteer Steam Monitoring Program and Insect Collections in the Paw Paw and Black River Watershed, Van Buren County. Two Rivers Coalition and Van Buren Conservation District introduced their board members and staff and gave a short update of their organization.
Individuals were divided into six teams, assigned a team leader and sent off to their designated locations with the proper equipment.
Volunteer Stream Monitoring Program Macroinvertebrate Identification
Monday, October 4th - Van Buren Conservation District
The following day, volunteers met at the Van Buren Conservation District office to sort and identify species from each collected site. Each Team had a table with tools and equipment to help sort, identify and assess the quantity of the species found at that specific site. Photos were taken of specimens and water quality was assessed by counting the sensitive, somewhat sensitive and toler-ant species found.
Read more...Volunteer Stream Monitoring Article PDF
Interview: Two Rivers Coalition Collecting Insects From Paw Paw River
Volunteer Stream Monitoring Program Page **updates
---
Are you into horror flicks? Here is on that will make your blood run cold: Oil and Water
---
Hydraulic Fracturing or "Fracking" - TRC"s Endorsement to Ban in Michigan

Motion - August 12, 2015 Board Meeting: TRC officially endorses petition to ban fracking in Michigan because of potential threat to ground water and surface water resources in Michigan.
The ballot summary on the circulating petition is:[8]
An initiation of legislation to prohibit the use of horizontal hydraulic fracturing or "fracking" and acid completion treatments of horizontal gas and oil wells; to prohibit emission, production, storage, disposal, and processing of frack and acidizing wastes created by gas and oil well operations; to eliminate the state's policy favoring ultimate recovery of maximum production of oil and gas; to protect water resources, land, air, climate, and public health; and to allow residents to enforce the provisions of this ballot language, by amending Public Act 451 of 1994 entitled "Natural Resources and Environmental Protection Act," by amending section 61528, 61529 and 61530.[9]

Anti-fracking ballot effort fails to collect enough signatures, seeks more volunteers (link to article)

Links/Information:

http://www.letsbanfracking.org/
---
This page last updated on 6/23/2017.