Two Rivers Coalition
---
Welcome! Explore and discover the Black and ..

Paw Paw River Watersheds with us!
Click Map for larger image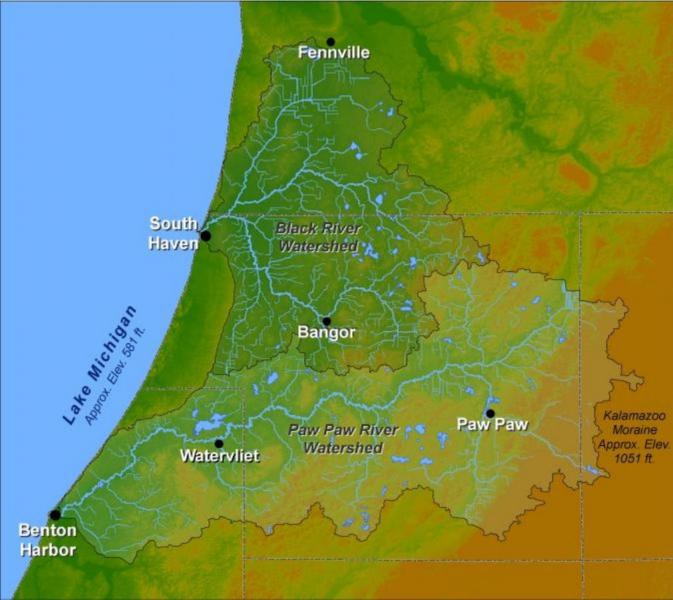 Learn what you can do to help protect and improve the wonderful resources in these watersheds. Learn about the Two Rivers Coalition, Inc., a citizen based group working to protect the health of the Black River and Paw Paw River Watersheds through conservation, education, and advocacy.
Our goal is to be your source of information about the Black and Paw Paw River Watersheds here in Southwest Michigan. We hope our web site will provide you with accurate and thought provoking information about these watersheds and the community we live in. We believe that an informed and engaged community is the key to making this one of the best places to live and play. Please look around and let us know if there is information that you would like for us to include on our web site. Looking for a specific topic? Try Search at the top of the page.
The Black and Paw Paw Rivers drain lands in Allegan, Berrien, Kalamazoo and Van Buren Counties. The Black River flows into Lake Michigan at South Haven. In Benton Harbor, the Paw Paw River flows into the St. Joseph River which then flows a short distance to Lake Michigan. Some say that the St. Joseph River is actually the Great South Branch of the Paw Paw River.
---
NEW!!!!
Learn more about the Paw Paw River Water Trail on their new website
---
RISK vs REWARD:
Or Why Two Rivers Coalition is Calling for the Shutdown of Line 5 under the Straits of Mackinac
At its July meeting, the TRC Board of Directors passed a resolution calling for the immediate shutdown of Line 5 which carries crude oil products under the Straits of Mackinac. My job is not to convince anyone of the correctness of this decision, but rather, to explain why we felt it was an appropriate action for a local environmental group to take. Remember, the mission of TRC is to…"protect the health of the Black River and Paw Paw River watersheds through conservation, education, and advocacy." As a water quality organization, we believe it is just not enough to work to protect the water only until it runs into Lake Michigan. The fact that all of us here in SW Michigan are part of the Lake Michigan watershed, and in turn, part of the Great Lakes Basin watershed, cannot be ignored. Most importantly, we believe that everyone in that vast but fragile watershed, containing 20% of the world's fresh water, has some responsibility to do what he or she can, to be a responsible steward of that tremendous natural resource. What TRC can do, as a regional environmental group focusing on water quality, is bring attention to potentially catastrophic threats to the waters and ecosystem of the Great Lakes. We are providing links to resources where people can go and get more information and then make up their own minds about how great the risk is and what their personal risk tolerance is to possible environmental catastrophe.
Which brings the discussion back to Enbridge Corporation's Line 5. Under the Straits of Mackinac, lie twin 20 inch pipelines built 64 years ago. Line 5 carries 540,000 barrels per day of crude oil and other petroleum products from Canadian oil fields to Canadian oil refineries and takes an opportunistic shortcut under the Straits through land owned by the State of Michigan. Interestingly, most people have no idea this very old pipeline even exists. Seven years ago I did not know such a pipeline existed deep under the most iconic landscape of our state. I was naïve and assumed that, because such a potentially dangerous thing should not be there, that it wasn't. Until another Enbridge pipeline ruptured in 2010 and spilled massive amounts of oil in Michigan, it never occurred to me that we (and our fresh water) were at risk from a pipeline spill. Everyone knows (just like our State Attorney General Bill Schuette has admitted) that such a pipeline in such an environmentally fragile area would never be allowed today. But hardly anyone knows that pipelines such as this one, built long before laws were passed requiring environmental impact statements, are still out there; environmental time bombs slowly ticking away. There can be no doubt that the State of Michigan and its people have been incredibly lucky over the last 64 years. These twin pipelines, with at least 16 unsupported sections over 75 feet long, have rocked back in forth in the strong currents at the bottom of the Straits, they have become encrusted with invasive Zebra mussels, the outside material has started to delaminate, but at least they haven't ruptured and spilled…YET. Of course, the people along the banks of the Kalamazoo River have not been so lucky. They suffered the consequences of the worst inland oil spill ever in the U.S. when another pipeline owned by Enbridge ruptured, spilled one million gallons of oil into a creek running into the river, and then went undetected by Enbridge for 17 hours.
The State of Michigan has commissioned studies about the threat and alternatives. If you like reading engineering/economic double talk, please read the Alternatives Analysis draft report. I struggled through the "Management Level Executive Summary" and learned a couple valuable things. From a qualitative perspective, it is impossible to calculate a value to the environment threatened by an oil spill because we all value the environment differently. No big surprise there. But it turns out that you can quantify the cost to Michiganders if Line 5 was shut down. The price of gasoline would rise 2 cents per gallon. The price of liquid propane in the U.P. might go up anywhere from 10 to 35 cents per gallon. Now there might be more costs to people living in Montreal but the most significant cost to the majority of people in Michigan would only be a 2 cent rise in gasoline price. You can debate endlessly the pros and cons of Line 5 and try to calculate the exact odds of another spill occurring like that on the Kalamazoo River (but in an even worse location). But it all comes down to one overarching concept: Risk vs. Reward.
I attended a public hearing in Petoskey about Line 5 and a common refrain by the people who testified was: why are we even considering at all taking the risk of a massive oil spill under the Straits when we receive so little benefit? The position of TRC and every environmental group who has studied the issue is that there are some risks you just do not take. According to a study by the University of Michigan, in a worst case scenario, over 700 miles of shoreline in Lakes Michigan and Huron would be affected by an oil spill. Can you imagine the effect on the summer tourist trade in both peninsulas? How about the effect on the sport fishing industry? How long would it take to clean up an oil spill during stormy weather which happens frequently there? Think for a moment about the brand "Pure Michigan" that our state legislature has spent tens of millions of our tax dollars promoting for many years. In the event of a massive oil spill at the Straits, the enormous value of the "Pure Michigan" brand would evaporate in the first 30 seconds of video clips on the evening news showing Mackinac Island ferries stuck in a sea of crude oil.
What Michigan is risking is very clear…but what does Michigan stand to gain? We use a very small amount of this oil, some for liquid propane to customers in the U.P. and a small amount refined into gasoline (both of which can be easily replaced). But the vast majority of the oil goes into Canada to a refinery in Sarnia, Ontario. So there is tremendous risk to Michigan and scant reward. Las Vegas would go broke if that was the risk/reward ratio it offered to gamblers. And let's remember the fundamental rule of gambling: Never, ever bet anything you can't afford to lose. Can we afford to lose the Great Lakes? Why even take the risk if we can remove the risk by paying 2 cents more for gas?
There are actions you can take if this issue is important to you. The State of Michigan is accepting comments from the public until August 4. It is very possible that a large amount of comments on one side or the other of this issue will sway public decision makers. Here on this page, we are providing links to the Michigan Petroleum Pipelines website set up by the State of Michigan where there is information about Line 5, including the Alternatives Analysis draft report and a way to send a comment. We are also providing a link to a website called Oil and Water Don't Mix, which is a campaign organized by a number of Michigan environmental organizations opposed to Line 5. Going to the Oil and Water Don't Mix page will allow you to watch a video about Line 5 and submit a comment to the State of Michigan. Regardless of what you personally decide about this issue, I hope you feel that TRC has provided a valuable service by encouraging debate on an important environmental topic and by encouraging you to become involved citizens and give your comment to the State of Michigan.
Thanks from the entire Board of Directors of Two Rivers Coalition
Two Rivers Coalition Resolution Calling for Shutdown of Line 5 under the Straits of Mackinac
IT IS RESOLVED THAT,
Because of Two Rivers Coalition's paramount interest in protecting the waters of the State of Michigan and the entire Great Lakes Basin to which the Paw Paw River and Black River flow, and because the potential risk to those waters from a spill or leak from the sixty-four year old Line 5 pipelines under the Straits of Mackinac is potentially catastrophic in terms of both environmental and economic damage, and because the risks of such a catastrophe far outweigh any short-term benefits to the people of the State of Michigan from continued transportation of crude oil products through Line 5,
THEREFORE, Two Rivers Coalition calls upon elected state and federal governmental representatives and relevant regulatory entities to immediately shut down Line 5.
Adopted July 12, 2017
About Enbridge Line 5 in the Straits of Mackinac
JUNE 26, 2017
Watch the Oil & Water Don't Mix video presentation about Enbridge Line 5 in the Straits of Mackinac.
http://www.oilandwaterdontmix.org/about_line_5
Also, here is a link to a site about Line 5 run by the State of Michigan:
https://mipetroleumpipelines.com/
You can submit a comment to the State of Michigan about Line 5 from either of these websites.
---
Upcoming Events:
___________________________________________________
SATURDAY OCT.14 - BLACK RIVER HIKE, LUNCH, AND PADDLE
ATTENTION: this event has been CANCELLED due to predicted thunderstorm activity.
For the third year in a row, Two Rivers Coalition is teaming up with our friends at Southwestern Michigan land Conservancy and Bangor/South Haven Heritage Water Trail Association to host a fun filled day in the South Haven area. First, there will be a guided hike on the trails of SWMLC's Black River Preserve starting at 10:00 a.m. We recommend getting to the preserve by 9:45 at the latest to be able to park and walk back to the trailhead where the hike will begin. Following the hike, will be a lunch at the trailhead inside the preserve. After lunch, paddlers will launch from the campground (formerly known as "Golden Dreams") across 8th Ave from the preserve. If you are only joining us for the paddle, you should plan to be at the campground across 8th Ave from the preserve by noon. There are two paddle options. You can end your trip after approximately 2 hours at 71 1/2 Street or go all the way to Black River Park in South Haven which is approximately 3 1/2 hours. At either location, there will be a shuttle to take you back to your car and your boat will be watched while you retrieve your vehicle. No boat? No problem! TRC board member "Kyak" Kenneth Nesbitt will bring a boatload of loaner kayaks. However, you must RSVP to borrow a boat and/or participate in the paddle. Call Miko at 269-324-1600 ext.302 to RSVP.
What about weather? We normally proceed with outdoor activities rain or shine but will cancel if there are thunderstorms. Also, if the Black River is too high, we may cancel the paddle. The most current info on potential cancellation of this event will be on the SWMLC homepage at www.swmlc.org which you should check Saturday morning.
Hosted by SWMLC in collaboration with Two Rivers Coalition and Bangor/South Haven Heritage Water Trail Association.

WHEN: Saturday, October 14; 10:00 a.m.
WHERE: Black River Preserve, Geneva Twp., Van Buren Co.
DIRECTIONS:
From M-43: At the traffic circle at Maple Grove Corners, take CR-689 north to the T-stop at 8th Ave. Turn right (east) on 8th Ave, and look for the preserve on the south side. If you get to 68th St, you've gone too far.
From US-196: Exit east onto Phoenix Rd. (exit #20). Take Phoenix Rd. about 1/2 mile to 71 1/2 St. Turn south onto 71 1/2 St. and go 1 mile to 8th Ave. Go east on 8th Ave, about 1 mile and look for the preserve entrance on the south side of the road.
TUESDAY OCT.17- FALL SPEAKING EVENT: TOXIC ALGAE AND OUR WATER
"Toxic Algae" sounds like a low budget horror flick but it really exists, is as scary as it sounds, and can sicken-and even kill- humans. Two Rivers Coalition is proud to host a presentation on "Toxic Algae and Our Water" by microbiologist Dr. Ann St. Amand on Tuesday evening, October 17 at the Van Buren Conference Center in Lawrence, MI at 7:00 p.m..
While the forced shutdown of Toledo's drinking water facility becau
se of algae occurred three years ago, nothing has really changed in Lake Erie. By late summer this year, most of the western basin of the lake was covered with the same toxin producing algae blooms that brought the large city to its knees in 2014. Although the leaders of Michigan, Ohio, and Ontario pledged to reduce run-off of excess nutrients and phosphorus into Lake Erie by 40%, it appears that scant progress has actually been made.
The question for residents of SW Michigan is, "Could something similar happen here and, if so, are we doing enough to try to prevent it?" There is no one better qualified to discuss this crucial water quality issue than Dr. St. Amand who received her PhD. in Aquatic Biology from the University of Notre Dame. For over 30 years, Dr. St. Amand has studied and identified tens of thousands of algal samples from all over North America. She currently sits on two state level committees concerned with public health issues associated with toxins from blue-green algal species. She has been the President and owner of Phyco Tech, Inc. in St. Joseph, MI since 1990.
The presentation by Dr. St. Amand, which is free and open to the public, will begin at 7:00 p.m. at the Van Buren Conference Center located at 490 South Paw Paw Street in Lawrence , MI 49064.
SAVE THE DATE! WEDNESDAY DEC 13- 9TH ANNUAL MEETING at Van Buren Conference Center
Why mess with success? We will follow the same format this year which has been so popular the last several years. Doors at the VBCC will open at 6:30 p.m. for sign in, dessert, and mingling. Back by popular demand will be the Silent Auction of beautiful donated items from local artists and businesses. The main program will begin promptly at 7:00 p.m. with a presentation by TRC President Kevin Haight on TRC activities, including an update on the Paw Paw River Water Trail and a discussion of E. coli monitoring results in the watersheds. Following a quick election of new TRC board members, the keynote address will be given by Brian Dayson of the Pokagon Band Language and Culture department.
____________________________________________________________
---
______________________________________________________________
Volunteer Stream Monitoring Program
Fall 2017 Macro Collection October 1st, I.D on Oct 2nd
Congratulations to Two Rivers Coalition and Van Buren Conservation District on being award the MiCorps Michigan Volunteer Stream Monitoring Grant for 2014. The start-up grant was for $2,923 to establish a macroinvertebrate monitoring program along the middle section of the Paw Paw River watershed, which is a tributary to the St. Joseph River. For more information go to Michigan Clean Water Corps (MiCorps) Program
2016 Fall Volunteer Stream Monitoring Program Macroinvertebrate Collection
Paw Paw River & Black River Watersheds
Volunteer Stream Monitoring Program Morning Training & Collection
Sunday, October 2, 2016, Lawrence River Park, Van Buren County
Volunteers gathered together at 9am to learn about the Volunteer Steam Monitoring Program and Insect Collections in the Paw Paw and Black River Watershed, Van Buren County. Two Rivers Coalition and Van Buren Conservation District introduced their board members and staff and gave a short update of their organization.
Individuals were divided into six teams, assigned a team leader and sent off to their designated locations with the proper equipment.
Volunteer Stream Monitoring Program Macroinvertebrate Identification
Monday, October 4th - Van Buren Conservation District
The following day, volunteers met at the Van Buren Conservation District office to sort and identify species from each collected site. Each Team had a table with tools and equipment to help sort, identify and assess the quantity of the species found at that specific site. Photos were taken of specimens and water quality was assessed by counting the sensitive, somewhat sensitive and toler-ant species found.
Read more...Volunteer Stream Monitoring Article PDF
Interview: Two Rivers Coalition Collecting Insects From Paw Paw River
Volunteer Stream Monitoring Program Page **updates
---
Are you into horror flicks? Here is on that will make your blood run cold: Oil and Water
---
Hydraulic Fracturing or "Fracking" - TRC"s Endorsement to Ban in Michigan

Motion - August 12, 2015 Board Meeting: TRC officially endorses petition to ban fracking in Michigan because of potential threat to ground water and surface water resources in Michigan.
The ballot summary on the circulating petition is:[8]
An initiation of legislation to prohibit the use of horizontal hydraulic fracturing or "fracking" and acid completion treatments of horizontal gas and oil wells; to prohibit emission, production, storage, disposal, and processing of frack and acidizing wastes created by gas and oil well operations; to eliminate the state's policy favoring ultimate recovery of maximum production of oil and gas; to protect water resources, land, air, climate, and public health; and to allow residents to enforce the provisions of this ballot language, by amending Public Act 451 of 1994 entitled "Natural Resources and Environmental Protection Act," by amending section 61528, 61529 and 61530.[9]

Anti-fracking ballot effort fails to collect enough signatures, seeks more volunteers (link to article)

Links/Information:

http://www.letsbanfracking.org/
---
This page last updated on 10/13/2017.