Two Rivers Coalition
*Monthly Meeting: 3rd Tuesday of the Month
---
Welcome! Explore and discover the Black and ..

Paw Paw River Watersheds with us!
Click Map for larger image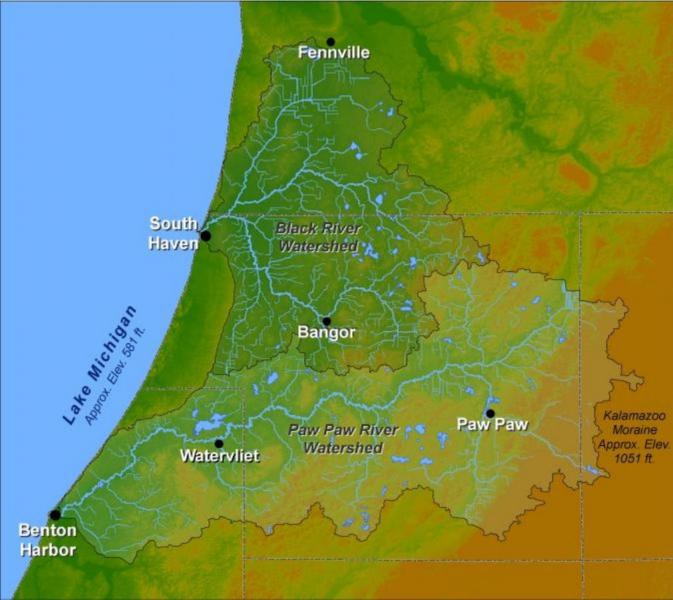 Learn what you can do to help protect and improve the wonderful resources in these watersheds. Learn about the Two Rivers Coalition, Inc., a citizen based group working to protect the health of the Black River and Paw Paw River Watersheds through conservation, education, and advocacy.
Our goal is to be your source of information about the Black and Paw Paw River Watersheds here in Southwest Michigan. We hope our web site will provide you with accurate and thought provoking information about these watersheds and the community we live in. We believe that an informed and engaged community is the key to making this one of the best places to live and play. Please look around and let us know if there is information that you would like for us to include on our web site. Looking for a specific topic? Try Search at the top of the page.
The Black and Paw Paw Rivers drain lands in Allegan, Berrien, Kalamazoo and Van Buren Counties. The Black River flows into Lake Michigan at South Haven. In Benton Harbor, the Paw Paw River flows into the St. Joseph River which then flows a short distance to Lake Michigan. Some say that the St. Joseph River is actually the Great South Branch of the Paw Paw River.
---
How will Climate Change Affect Southwest Michigan?
Attendees of the TRC 10th Annual Meeting on November 8, 2018 were treated to a highly informative and persuasive presentation by Dr. David Karowe of WMU. He explained the scientific evidence which absolutely establishes the dominant role humans are playing in the warming of the planet. He went on to explain what life will be like in the Great Lakes by the end of this century under two scenarios: business as usual (do nothing) or return to the Paris Climate Agreement. There will be rising summer and winter temps, earlier and more severe spring floods, more frequent and more intense rain events, and more severe late summer droughts. We could lose iconic tree species like White Pine and Sugar Maple. Bottom line is that if we do nothing different, by the end of the century we will not recognize the place we call Michigan. But, if we act quickly, we can still choose the type of planet we leave to future generations.
Click here to see the full presentation.
---
Learn more about the Paw Paw River Water Trail on their new website
---
Upcoming Events in 2019:
__________________________________________________________________
________________________________________________________________
BLACK RIVER PADDLE
Saturday Sept 14
10 AM - Noon
Although this is not a TRC organized paddle, here is the info from the Michigan Maritime Museum's website:
Join Michigan Maritime Museum members, volunteers, and other paddlers for a beautiful fall paddle on the serene Black River in South Haven. This event is open to all ages and levels in every area of paddling be it canoe or SUP. The purpose is to enjoy the river with your fellow paddlers and maybe learn a little something along the way. The Museum will provide a guide to lead the event. Paddlers are responsible for their own equipment/rentals. All paddlers will meet at the Black River Public Launch and paddle upriver for approximately an hour before returning to the launch. Following the event, participants are welcome to gather at Harbor Light Brewing in downtown South Haven for a brew and to share some paddling stories. This event is free. Donations to the Museum are appreciated. For information or to register, contact ashley@mimaritime.org or call 269-637-8078 ext. 3.
FYI, please be aware that the Dyckman Ave to Dunkley Ave route to Black River Park has been closed due to high water. If that continues, you will need to take Blue Star Highway to Wells and follow signs for Black River Park.

_________________________________________________

Sunday October 6- Stream sampling for macroinvertebrates

This is always our most fun event of the year. Co-sponsored with Van Buren Conservation District. Meet at 9:00 a.m. at Lawrence River Park. Watch website and Facebook page for more information.

_________________________________________________

Thursday November 7- TRC Annual Meeting at Van Buren Conference Center in Lawrence

Mark this date on your calendar right now. There will be all your favorite stuff like the silent auction, delicious home-made desserts,and table displays by local environmental groups, as well as a keynote address by Ryan Postema, Executive Director of Chickaming Open Lands Conservancy.
Watch our website and Facebook page for more detailed info.
_______________________________________________________________
Copyright © 2019 Two Rivers Coalition, All rights reserved.
Two Rivers Coalition is a citizen-based group working to protect the health of the Black River and Paw Paw River watersheds through conservation, education and advocacy. You can become a member or renew your membership by using the interactive form at www.TwoRiversCoalition.org/giving.asp. If you do not wish to be on our mailing list, please unsubscribe.

Our mailing address is:


Want to change how you receive these emails?
You can update your preferences or unsubscribe from this list.


Watch website and Facebook page for details.
_______________________________________________
Sunday October 6, 2019 - Fall Macroinvertebrate Collection
ID on Monday Oct 7th
Watch website and Facebook page for details.
_________________________________________________________________
November 7, 2019 - TRC 11th Annual Meeting
Van Buren Conference Center, Lawrence, MI
Watch website and Facebook page for more details
---
RISK vs REWARD:
Or Why Two Rivers Coalition is Calling for the Shutdown of Line 5 under the Straits of Mackinac
At its July meeting, the TRC Board of Directors passed a resolution calling for the immediate shutdown of Line 5 which carries crude oil products under the Straits of Mackinac. My job is not to convince anyone of the correctness of this decision, but rather, to explain why we felt it was an appropriate action for a local environmental group to take. Remember, the mission of TRC is to…"protect the health of the Black River and Paw Paw River watersheds through conservation, education, and advocacy." As a water quality organization, we believe it is just not enough to work to protect the water only until it runs into Lake Michigan.
Continue Reading Risk vs Reward (click on for full write-up)
---
Two Rivers Coalition Resolution Calling for Shutdown of Line 5 under the Straits of Mackinac
IT IS RESOLVED THAT,
Because of Two Rivers Coalition's paramount interest in protecting the waters of the State of Michigan and the entire Great Lakes Basin to which the Paw Paw River and Black River flow, and because the potential risk to those waters from a spill or leak from the sixty-four year old Line 5 pipelines under the Straits of Mackinac is potentially catastrophic in terms of both environmental and economic damage, and because the risks of such a catastrophe far outweigh any short-term benefits to the people of the State of Michigan from continued transportation of crude oil products through Line 5,
THEREFORE, Two Rivers Coalition calls upon elected state and federal governmental representatives and relevant regulatory entities to immediately shut down Line 5.
Adopted July 12, 2017
---
About Enbridge Line 5 in the Straits of Mackinac
JUNE 26, 2017
Watch the Oil & Water Don't Mix video presentation about Enbridge Line 5 in the Straits of Mackinac.

http://www.oilandwaterdontmix.org/about_line_5

Also, here is a link to a site about Line 5 run by the State of Michigan:

https://mipetroleumpipelines.com/
You can submit a comment to the State of Michigan about Line 5 from either of these websites.
---
Volunteer Stream Monitoring Program
ATTENTION: Due to high water levels, the May 5 volunteer macroinvertebrate collection has been postponed until Sunday May 19.
Sunday May 19- Volunteer Stream Monitoring/Macroinvertebrate Collection
Congratulations to Two Rivers Coalition and Van Buren Conservation District on being award the MiCorps Michigan Volunteer Stream Monitoring Grant for 2014. The start-up grant was for $2,923 to establish a macroinvertebrate monitoring program along the middle section of the Paw Paw River watershed, which is a tributary to the St. Joseph River. For more information go to Michigan Clean Water Corps (MiCorps) Program
2016 Fall Volunteer Stream Monitoring Program Macroinvertebrate Collection
Paw Paw River & Black River Watersheds
Volunteer Stream Monitoring Program Morning Training & Collection
Sunday, October 2, 2016, Lawrence River Park, Van Buren County
Volunteers gathered together at 9am to learn about the Volunteer Steam Monitoring Program and Insect Collections in the Paw Paw and Black River Watershed, Van Buren County. Two Rivers Coalition and Van Buren Conservation District introduced their board members and staff and gave a short update of their organization.
Individuals were divided into six teams, assigned a team leader and sent off to their designated locations with the proper equipment.
Read more...Volunteer Stream Monitoring Article PDF
Interview: Two Rivers Coalition Collecting Insects From Paw Paw River
Volunteer Stream Monitoring Program Page
---
Are you into horror flicks? Here is one that will make your blood run cold: Oil and Water
---
Hydraulic Fracturing or "Fracking" - TRC"s Endorsement to Ban in Michigan

Motion - August 12, 2015 Board Meeting: TRC officially endorses petition to ban fracking in Michigan because of potential threat to ground water and surface water resources in Michigan.
The ballot summary on the circulating petition is:[8]
An initiation of legislation to prohibit the use of horizontal hydraulic fracturing or "fracking" and acid completion treatments of horizontal gas and oil wells; to prohibit emission, production, storage, disposal, and processing of frack and acidizing wastes created by gas and oil well operations; to eliminate the state's policy favoring ultimate recovery of maximum production of oil and gas; to protect water resources, land, air, climate, and public health; and to allow residents to enforce the provisions of this ballot language, by amending Public Act 451 of 1994 entitled "Natural Resources and Environmental Protection Act," by amending section 61528, 61529 and 61530.[9]

Anti-fracking ballot effort fails to collect enough signatures, seeks more volunteers (link to article)

Links/Information:

http://www.letsbanfracking.org/
---
This page last updated on 10/14/2019.