Home>News and Resources>Publications and Reports
Publications and Reports
Low Impact Development Manual for Michigan, a design guide for implementors and reviewers.
This manual provides information on integrating LID from the community level down to the site level. It not only contains technical details of best management practices, but also provides a larger scope for managing stormwater through policy decision, including ordinances, master plans, and watershed plans.
Living With Michigans's Wetlands: A landowner's Guide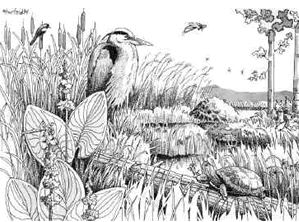 Michigan's Landowners are critical to the protection and management of wetland resources in the state. This guidebook contains information to help the landowner learn more about wetlands and the value of wetland protection, basic techniques and options for wetland management, the economic benefits of various protection methods, and where to go for more assistance.
Protecting Michigan's Wetlands: A Guide for Local Governments
This guidebook is designed for the local government official or interested citizen who faces important questions about wetlands. Why should you consider protecting them? It is hoped that the information contained in this guide will help you understand why wetlands are improtant; it provides information to help you make decisions about the wetlands in your local community. Tip of the Mitt Watershed Council
Public Rights on Michigan Waters
This document is offered as a guide to how water rights came to be and the current state of the law. This information has been compiled for convenience in answering common questions regarding water law in the State of Michigan. This material highlights the evolution of court decisions and legislative enactments dealing with water and related legal issues. The manual discusses the court's role in defining and shaping Michigan water law. The "floating log test," the "recreation-boating test" and other terms pertinent to water law are discussed and defined.
Helping Fish and Wildlife on Your Lakeshore Property
A healthy lake doesn't just happen. It comes about when shoreline property owners and others living in the watershed take steps to ensure the lake's ecological health. Only if more lakeshore owners manage their shoreline in a natural condition can fish and wildlife populations on Michigan lakes stay healthy and abundant.
This guide was written to help people understand information about lake water quality and to interpret lake data.
Simple, Concrete steps you can take in your home, yard, and community to protect your lake.
This page last updated on 11/25/2018.