Home>News and Resources>Natural Shorline Landscaping
Natural Shoreline Landscaping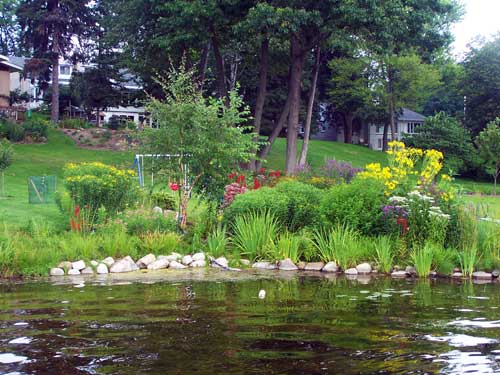 A natural shoreline is a complex ecosystem that sustains fish and wildlife and protects the entire lake. Native vegetation along the shore acts as a buffer zone, intercepting nutrients and reducing runoff, erosion, and sedimentation. Aquatic plants provide food and shelter for ducks, songbirds, an other animals while reducing problems caused by Canada geese and burrowing muskrats.
Use Native Plants
Native plants create habitats that support our native fish, wildlife, birds and the organisms on which they depend. The use of native wetland and upland plants will allow you to create a natural environment that benefits both you and your lake.
Constructing a structure or dredging on the bottomlands of an inland lake requires a permit under Part 301, Inland Lakes and Streams, of the Natural Resources and Environmental Protec­tion Act, 1994 PA 451, as amended. However, the MDEQ has created a minor project category to allow expedited permit application processing for specific bioengineering practices for stabilization of inland lake shorelines. The objective of the minor project category is to reduce the inconvenience and cost of the permit process for applicants proposing minor activities while protecting aquatic resources. More information on the minor project category and an application with directions can be found at: www.mi.gov/jointpermit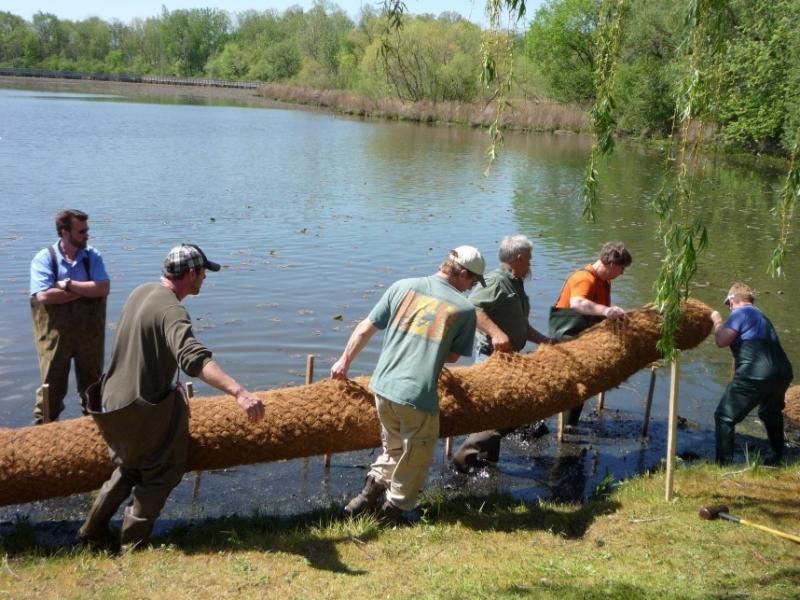 Events:
Protecting Your Shoreline: A Workshop for Inland Lakefront Property Owners
Choose from:
Porter Township Hall on Saturday May 20, 2017 10:30 a.m. to 2:30 p.m.(includes a short tour of Gravel Lake & light meal) or
Kellogg Biological Station, Gull Lake on 6 – 9 p.m. Tuesday August 15 (Training); and Tuesday August 22 (Boat tour of lake)
Natural shorelines provide multiple benefits to our inland lakes. Natural shoreline landscaping and bioengineered erosion control techniques can restore those benefits by reducing runoff, deterring geese, stabilizing soils and improving fish and wildlife habitat while maintaining aesthetically pleasing access to your lake. Already have rock or sea wall? Learn how to enhance those structures for the benefit of your lake.
Cost: $50 per person, $25 for a second member of the household (who will share materials) Registration deadline two days before event. No refunds will be issued after the registration deadline unless the workshop is cancelled due to low enrollment. Substitutions are welcome! Workshop hosted by Michigan State University Extension in cooperation with the Michigan Natural Shoreline Partnership
**Natural Shoreline Workshop Flyer - MSUE**
Resources:
Lakescaping Brochure - MSUE
Softshore Engineering - MDNRE
Shoreline Alterations & Lakescaping
MDEQ Permit Guide - Shoreline Protection
MDEQ Permit Guide - Bioenineering Project on Inland Lakes
Helpful Links:
Michigan Natural Shoreline Partnerships
Michigan Certified Natural Shoreline Professional
MDEQ EZ Guides - Instruction For Minor Project & General Permit Applications
This page last updated on 5/17/2017.